Zoom
Asustor AS5108T 4GB 8-Bay NAS Server External Storage
Price:
Rp.14,700,000
Rp.14,180,000
Brand:
Asustor
Product Code:
AS5108T
Reward Points:
0
Availability:
In Stock
High performance technology
An Intel Celeron 2.0GHz Quad-core processor and 2GB DDR3L memory, provide premium, energy efficient processing power. With read/write speeds of up to 112 MB/s, the AS51 series' excellent performance is sure to satisfy your storage application needs. Furthermore, when AS51 series devices need more computing power, they can increase the CPU computing power from the original 2.0 GHz to 2.41 GHz, providing a smooth and seamless experience.



*Performance results may differ depending on the testing environment.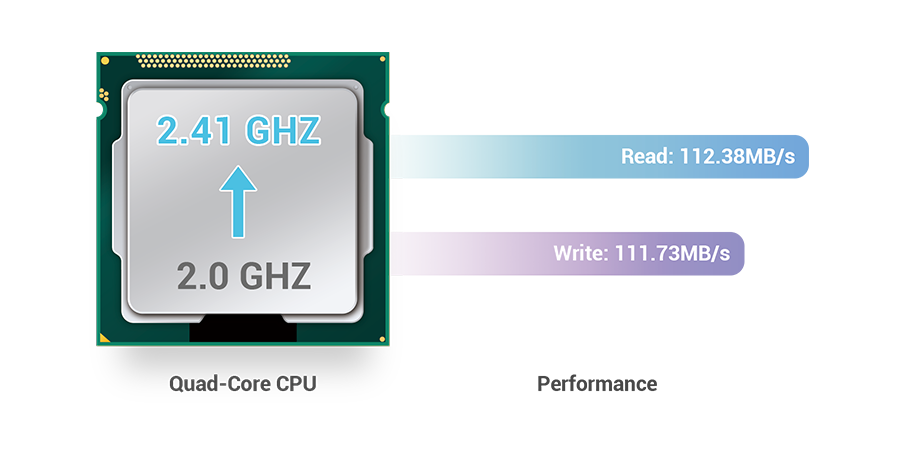 Effortlessly upgrade memory
Depending on your usage preferences, you can decide whether or not you want to upgrade memory. AS50/51 devices provide users with the ability to flexibly upgrade memory so there is no need to worry about the memory before you purchasing the device. When upgrading memory, you simply need to remove the cover of the NAS to do it (There are 2 expansion memory slots in total. Memory can be expanded up to a maximum of 8GB.), letting you easily improve system performance and allowing your NAS to simultaneously run more Apps.

*To purchase memory, please click here.
*For a list of compatible memory, please see:
*Memory installation Guide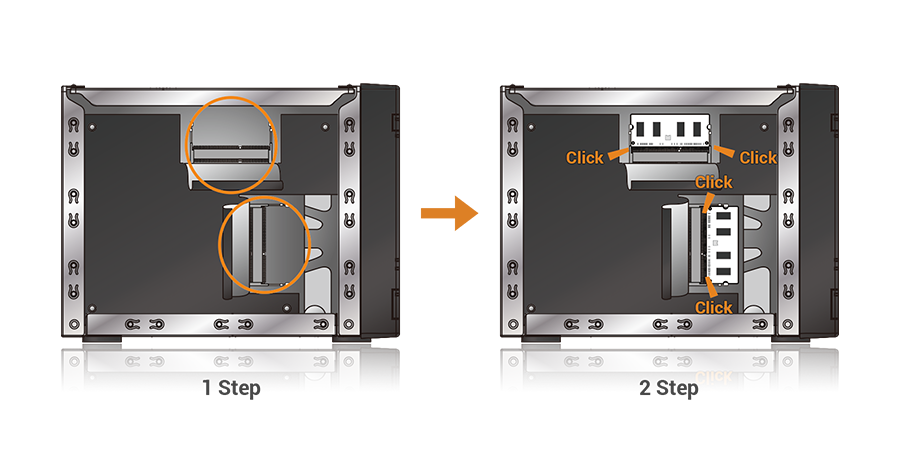 Metallic design
Different from other NAS devices on the market which feature plastic cases and suboptimal cooling, the AS50/51 devices feature aluminum casing along with a rust and corrosion resistant coating which combines with the metallic hard disk trays to fully make use of the natural cooling properties of metal. This significantly enhances the entire cooling ability of the system.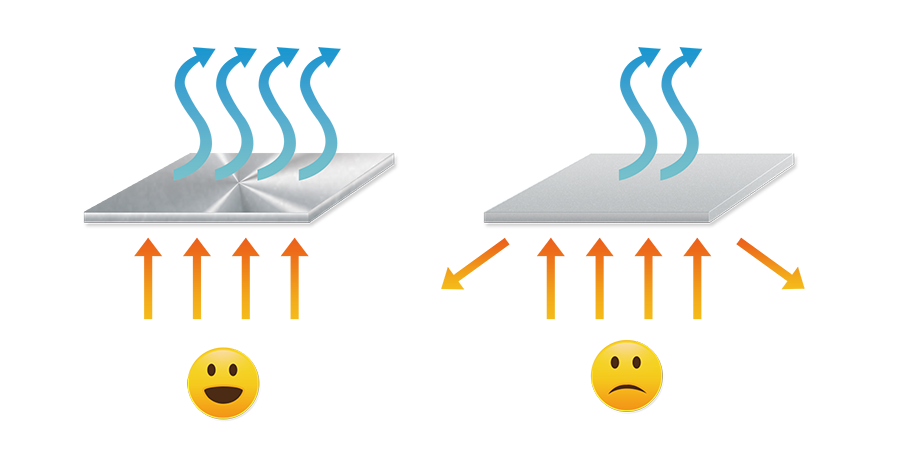 4 times the network speed and increased reliability
The built-in quad Ethernet ports combined with the link aggregation function, allows your NAS to maintain its connection even if one of your Ethernet connections fail, significantly decreasing the likelihood of unexpected disconnections. Additionally, link aggregation provides faster transfer speeds than a single connection could, along with load balancing which automatically balances network traffic load across the two connections, making it the optimal choice for users who require high speed reliability.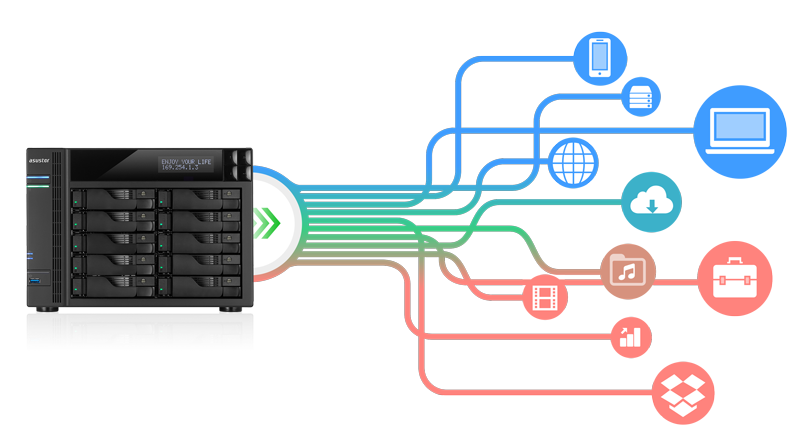 Hardware Specifications
CPU: Intel Celeron 2.0GHz Quad-Core (burst up to 2.41GHz) Processor
Hardware acceleration engine supported format: H.264 (AVC), H.265 (HEVC), MPEG-4 Part 2, MPEG-2, VC-1
Memory: 2GB SO-DIMM DDR3L (Expandable. Max 8GB)¹ Installation Guide

Note:

When expanding AS5 series memory, please ensure that both memory modules you are installing are of the same size.
When purchasing 8GB RAM modules, due to AS5 series platform limitations, you will only be able to install a single 8GB RAM module. The original RAM modules must be removed. It is not possible to have two 8GB RAM modules installed. Please see the graphic.
Installable RAM module combinations are as follows:

1GB + 1GB
2GB + 2GB
4GB + 4GB
Single 1,2,4, 8GB module installed in the first memory slot.

HDD: 2 x SATA2 3Gb/s, 6 x SATA3 6Gb/s; 3.5"/2.5" HDD/SSD Compatibility
Maximum Internal Raw Capacity: 80 TB (10 TB HDD X 8, Capacity may vary by RAID types)
Supports Hot Swappable Drives
Expansion: USB 3.0 x 3, USB2.0 x 2, eSATA x 2
Network: Gigabit Ethernet x 4
LCD Panel
Output: HDMI 1.4a x 1, S/PDIF x1
System Fan: 120mm x 2
Infrared Receiver
Audio Output: S/PDIF
Power Supply Unit / Adapter: 250W x1
Input Power Voltage: 100V to 240V AC
Certification: FCC, CE, VCCI, BSMI, C-TICK
Operation
Power Consumption: 59.1W (Operation);
32.1W (Disk Hibernation);
3.2W (Sleep Mode) ²
Noise Level: 22dB (HDD idle)
Operation Temperature: 0°C~40°C (32°F~104°F)
Humidity: 5% to 95% RH
ASUSTOR Hightlight
System Migration
Cloud Connect
Dr.ASUSTOR
2-way Backup
Task Monitor
Eco-Friendly Design
System Automatically Enters Sleep Mode (Schedule S3)
Auto-Standby for Both Internal and External Disks
Auto Fan Control
LED Night Mode
Power Schedule: On, Off, Restart, and Sleep..
Size and Weight
Size: 215.5(H) x 293(W) x 230(D) mm
Weight: 6.2 (kg) / 13.67 (lb)Package Contents
Operating System
ADM 2.7 Onwards
Supports Online Firmware Updates
Supported OS
Windows XP, Vista, 7, 8, 10, Server 2003, Server 2008, Server 2012
Mac OS X 10.6 Onwards
UNIX, Linux, and BSD
Supported Languages
Deutsch, English, Français, Italiano, Nederlands,Русский, 日本語, 한글, 简体中文, 繁體中文, Česká,Polski, Svenska, Dansk, Norsk, Suomi, Português,Türkçe, Español, Magyar
Supported Browsers
Internet Explore 11 Onwards
FireFox
Chrome
Safari
Microsoft Edge
Virtualization
VMware ready (NFS)
Citrix ready
Network Protocols
CIFS / SMB, SMB 2.0 / 3.0, AFP, NFS, FTP (Unicode Supported), TFTP, WebDAV, Rsync, SSH, SFTP, iSCSI/IP-SAN, HTTP, HTTPS, Proxy, SNMP, Syslog
File System
Internal Disk: EXT4
External Disk: FAT32, NTFS, EXT3, EXT4, HFS+
Storage Management
Support Multiple Volumes with Spare Disks
Volume Type: Single disk, JBOD, RAID 0, RAID 1, RAID 5, RAID 6, RAID 10
Support for Online RAID Level Migration
MyArchive
Insert Hard Disk & Immediately Access Files
Transfer or Exchange Terabytes of Data via the Internal Hot-Swap SATA Interface
Up to N-1 Bays Reserved for MyArchive Docking Purposes
iSCSI Read/Write (5GB file, 1GbE x 1)/IP-SAN
Maximum Targets: 256
Maximum LUNs: 256
Maximum Snapshot Versions of a Single LUN: 256
Target Masking
LUN Mapping
ISO File Mounting
Supports MPIO
Persistent (SCSI-3) Reservations
Customized Sign In Page
2 Different Template Choices
Customizable Title, Imageand Background
Image Import Function
Disk Management
Scheduled Bad Block Scans
Scheduled S.M.A.R.T Scans
Energy Control
Configurable Disk Hibernation and Sleep Mode Wait Time
Configurable Time Period for Sleep Mode Activation
Automatic Sleep
Network
TCP/IP (IPv4 & IPv6)
Link Aggregation: Supports 802.3ad and Six Other Modes for Load Balancing and/or Network Failover
Jumbo Frame (MTU)
VLAN
Cloud Connect
Wireless Network³
DDNS and EZ-RouterCompatibility
Supports Wake-on-LAN (WOL)
Backup Solutions
Rsync (Remote Sync) Backup
Cloud Backup
FTP Backup
External Backup
Internal Backup Using Internal High Speed SATA's 6GB Bandwidth to Back up to MyArchive/Volume
One Touch Backup
System Administration
Log Type: System Log, Connection Log, File Access Log
Real-time Online User Monitor
Real-time System Monitor
User Quota
Virtual Drive (ISO Mounting, Maximum 16)
UPS SupportCompatibility
Network Recycle Bin
Share folder-based
Maintains original directory structure and file permission
On-click restore
Supports scheduled emptying
Filtering rules

File size
File extension
Access Control
Maximum Number of Users: 4096
Maximum Number of Groups: 512
Maximum Number of Shared Folders: 512
Maximum Number of Concurrent Connections: 512
Supports Windows Active Directory
Write a review for Asustor AS5108T 4GB 8-Bay NAS Server External Storage
Note:
HTML is not translated!
HargaMurah.COM: Mangga Dua Mal Lantai 3 No. 35, Jalan Mangga Dua Raya, Jakarta 10730
Telp: 021-6120966, 021-2268 0850 | SMS/WA : 0851 0131 5525
---
Copyright © HargaMurah.COM - Toko Online Asli Indonesia | All Rights Reserved
Untuk pengalaman browsing terbaik gunakan browser Firefox versi 3.0 atau versi yang lebih baru