Asustor AS6204RD 4-Bay NAS Server External Storage
Brand:
Asustor
Product Code:
AS6204RD
Reward Points:
0
Availability:
In Stock
Equipped with an Intel Celeron quad-core processor
AS6204RS/6204RD is powered by Intel Celeron quad-core processor, equipped with 4GB of dual-channel memory, and feature read speeds of over 112.80 MB/s and write speeds of over 111.95 MB/s under RAID 5 configurations.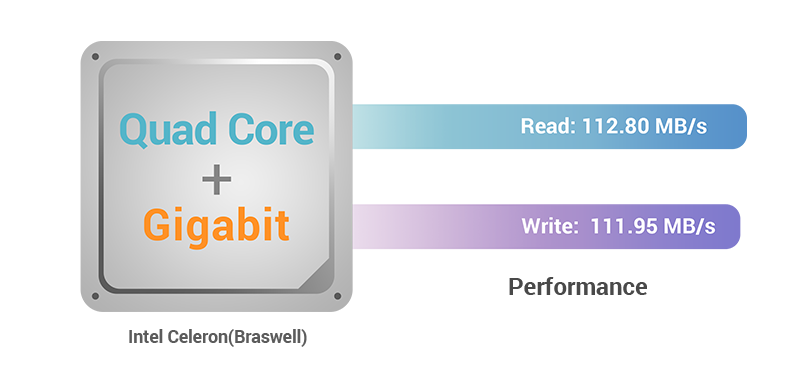 A Surge in Data Transfer Performance
ADM 2.6 supports SMB 2.0 which reduces the burden of network traffic on the NAS while simultaneously providing greater data transfer capacity.In the ASUSTOR testing environment, SMB 2.0 was found to increase Windows networking performance by 30%-50%*. SMB 2.0 also significantly increases the number of concurrent Windows client connections and simultaneously open files, making ADM 2.6 even more suitable for large-scale Microsoft network environments.

* Actual performance may vary due to differences in the installation environment. SMB 2.0 is supported in Windows Vista and later versions of the Microsoft Windows operating system.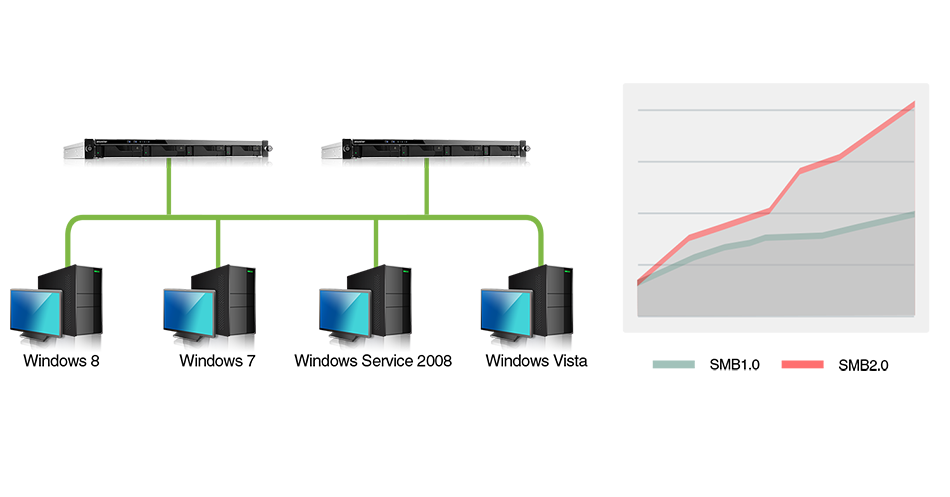 iSCSI and Virtualization
ASUSTOR recognizes that stable and efficient shared storage is a must for your virtual environment. The supported use of iSCSI and NFS allows you to seamlessly integrate with any existing IT environments. Additionally, all ASUSTOR NAS devices are verified as VMware, Citrix and Hyper-V ready, providing you with a flexible and cost-efficient virtual storage solution.

The iSCSI features supported by ASUSTOR NAS devices include:
- LUN Mapping
- LUN Masking
- ISO File Mounting
- MPIO Support
- Persistent (SCSI-3) Reservations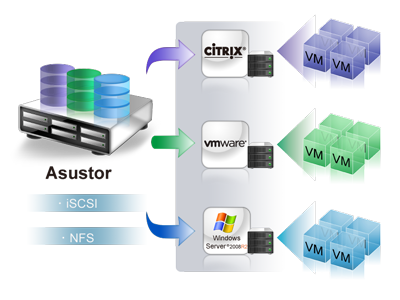 Advanced File Permissions Management - Windows ACL
For IT professionals, file permissions configuration is a very important topic, especially in enterprise environments. Because the native Linux system file permission mechanisms are different than those in Windows, in the past, IT professionals had to create a separate set of permissions for files stored on NAS servers. This also limited the number of permission configuration options that were available to them.

In order to help IT professionals simply their work, ASUSTOR has comprehensively integrated Windows ACL into ADM. Windows ACL provides a set of 13 different permissions settings, allowing administrators to configure permissions for individual files and folders that can be applied to different groups and users. Windows ACL permissions can be configured from within ADM's File Explorer or Microsoft Windows Explorer allowing administrators to easily manage permissions using familiar methods.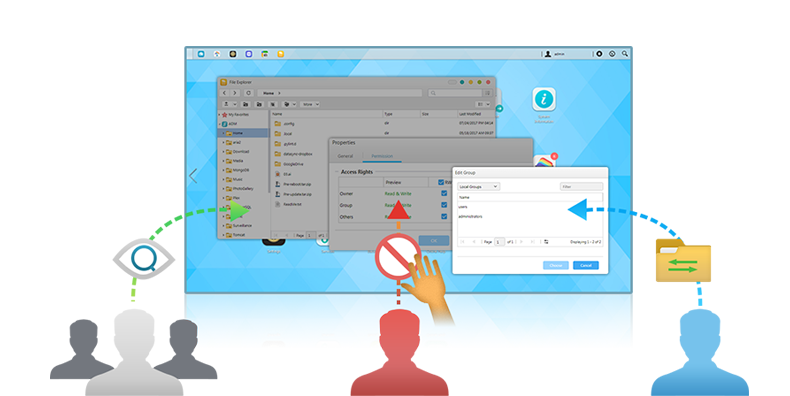 Enterprise Backup
The AS6204RD features comprehensive backup solutions. The built-in redundant power supply and 4 Gigabit Ethernet ports effectively increase reliability, data integrity and execution speeds. The Ethernet ports and power supply all feature failover capabilities (when one fails, the other can continue to operate) in order to ensure for continuous data availability.

Hardware Specifications
CPU: Intel Celeron 1.6GHz Quad-Core (burst up to 2.24GHz) Processor
AES-NI hardware encryption engine integrated
Hardware acceleration engine supported format: H.264 (AVC), H.265 (HEVC), MPEG-4 Part 2, MPEG-2, VC-1
Memory: 4GB SO-DIMM DDR3L (4GB x 1, Expandable. Max 8GB)¹Installation Guide

Note:

When expanding AS61/62 series memory, please ensure that both memory modules you are installing are of the same size.
When purchasing 8GB RAM modules, due to AS61/62 series platform limitations, you will only be able to install a single 8GB RAM module. The original RAM modules must be removed. It is not possible to have two 8GB RAM modules installed. Please see the graphic.
Installable RAM module combinations are as follows:

1GB + 1GB
2GB + 2GB
4GB + 4GB
Single 1,2,4, 8GB module installed in the first memory slot.

HDD: 4 x SATA3 6Gb/s; 3.5"/2.5" HDD/SSD Compatibility
Maximum Internal Raw Capacity: 40 TB (10 TB HDD X 4, Capacity may vary by RAID types)
Supports Hot Swappable Drives
Expansion: USB 3.0 x 4
Network: Gigabit Ethernet x 4
Output: HDMI 1.4b x 1
System Fan: 40mm x 2
Power Supply Unit / Adapter: AS6204RS 250W x1; AS6204RD 250W x2
AS6204RS x1 / AS6204RD x2
Input Power Voltage: 100V to 240V AC
Certification: FCC, CE, VCCI, BSMI, C-TICK
Service LED Indicator
Redundant power supply : AS6204RD
Write a review for Asustor AS6204RD 4-Bay NAS Server External Storage
Note:
HTML is not translated!