Bundling AGON AOC AG271QX 27 inch Gaming Monitor + Logitech G 402 Gaming Mouse
Brand:
AOC
Product Code:
AG271QXX
Reward Points:
0
Availability:
In Stock
AG271QX
Bolstered for battle, the 27" TN Panel AG271QX Adaptive-Sync monitor brings you seamless, lag-free gaming with the pro gaming-standard 144Hz refresh rate. Take control of the battlefield in crystal-clear Quad HD (2560 x 1440) resolution. Includes convenience-focused signature AGON features to optimize gameplay.

QHD resolution
Wider vision, extra details
With 2560 x 1440 resolution, Quad HD (QHD) offers superior picture quality and sharp imagery that reveals the finest details. The widescreen 16:9 aspect ratio provides plenty of space to spread out and work, plus allows you to enjoy games or movies in their orginal size.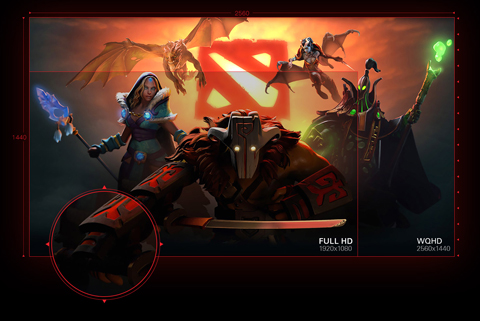 Adaptive-Sync Technology
Adaptive-Sync technology synchronizes the GPU and the monitor so frames are displayed when ready - no tearing or stuttering.
Why is Adaptive-Sync better?
High performance solution with all the benefits of variable refresh rate technology.
Based on industry standards, not expensive proprietary solutions.
Cheaper and easier to implement: no additional monitor hardare, no license fees.
Cheaper for consumers.
Support multiple use cases: Gaming, Video, Power Saving.
144 Refresh Rate and 1ms Screen Response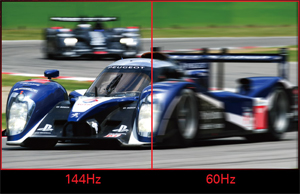 Conventional 60Hz monitors can show distracting motion blur when displaying games with rapid movement.

Ultra-fast 144Hz refresh rate and 1ms screen response time combine to enable sharper and more responsive action.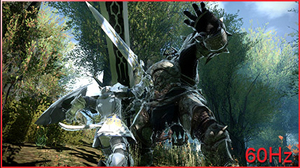 Recommended for casual players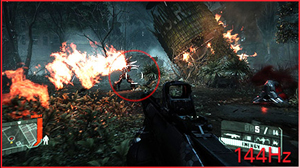 Recommended for competitive or professional players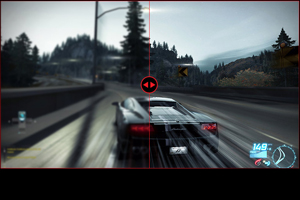 Many gamers have the misconception that 144Hz monitors are only needed for FPS gameplay. However, this isn't the case.
Smoother visuals aside, 144Hz monitors also reduce any delays between physical mouse movement and on-screen depiction. 144Hz monitors refresh on-screen images 144 times per second for sharper, cleaner movements. The added benefit is that the mouse cursor's position is updated 144 times per second as well. Compared to a 60Hz display, the result is much-improved mouse movement fluidity and precision. This is useful for micromanaging units better in RTS games or winning action-packed team fights in MOBA games, for example. It is also an advantage recognized by many pro gamers.
Case in point: in 2016 during the Valve-sponsored Dota2 Shanghai Major tournament, players complained that the only monitors available at the time were 60Hz. Sponsors ended up providing new 144Hz monitors on short notice for the tournament to continue smoothly.
AOC Shadow Control enables fast contrast adjustment of overly dark or bright areas through the OSD menu, while retaining quality on more balanced areas on-screen.
Low Input Lag reduces delay between signal input (via keyborad, mouse or otherwise) and image processing on the screen to ensure a smoother gaming experience.
Low Blue Light software, featured in all AGON displays, reduces harmful blue light emission (wavelengths under 455nm) found in most monitors. This ensures your eyes stay protected, especially over longer gaming sessions.

Most monitors use Pulse Width Modulation (PWM) to control brightness. The pulsing creates flicker which can cause eye strain and other discomforts. Flicker Free constantly powers the backlight with Direct Current (DC) instead. Play safely.
Connection Port
AOC gaming monitors are very easy to connect. The AG271QG has several external input ports, but also has dedicated USB 3.0 and device-charging ports, making it easy for you to charge your mobile device or transfer data while focused on your gaming session.

Adjustable Stand
The fully adjustable stand allows convenient adjustment of the screen's height and angle. Match the screen's position to your chair position, height, and line of sight for a comfortable playing experience.
FEATURES
FUSION ENGINE HIGH-SPEED TRACKING
Sophisticated sensor technology for ultra-fast gaming
Hyperion Fury combines an optical sensor featuring Logitech Delta Zero™ technology with our exclusive Fusion Engine™hybrid sensor to enable tracking speeds in excess of 500 IPS.
8 PROGRAMMABLE BUTTONS
Customize to fit your style of game play
Customize your mouse with 8 programmable buttons. Whether you want to toss a grenade or quickly access your inventory, it's at your fingertips. Optional Logitech Gaming Software makes set up easy.
ON-THE-FLY DPI SWITCHING
4 settings for better control of how you game
Switch through four DPI settings in an instant. Snipe a foe across the map (250 DPI) before fleeing in the blink of an eye (4000 DPI). With on-the-fly DPI switching, you have the flexibility to react to the chaos of battle with precision.
32-BIT ARM PROCESSOR
Smarter than ever
Hyperion Fury on-board ARM processor powers the Fusion Engine for incredible tracking speeds while allowing you to save and play back your favorite macros. With Logitech Gaming Software, craft and assign macros that can be accessed from Hyperion Fury with ease.
1MS REPORT RATE
Constant communication
With a 1 millisecond report rate, you can be confident that your movement will be communicated via USB at fast speeds without troublesome lag.
COMFORTABLE DESIGN
Maximum comfort for maximum playtime
An update to the classic G400s shape to enhance function and comfort. A combination of lightweight materials and rubber grips will help to ensure that your gaming sessions last as long as possible.
HIGH-SPEED CLICKING
Extreme responsiveness gives you the edge
Distinct left and right buttons offer extreme responsiveness. With high-speed clicking, you can push your skills even further while enjoying the edge in intense firefights. Faster, more comfortable clicking makes all the difference with Hyperion Fury.
Write a review for Bundling AGON AOC AG271QX 27 inch Gaming Monitor + Logitech G 402 Gaming Mouse
Note:
HTML is not translated!