Mad Catz R.A.T. Pro X Gaming Mouse - Philips 8200 DPI
Brand:
Madcatz
Product Code:
RAT PRO X
Reward Points:
0
Availability:
In Stock

Changing the Game… Again
R.A.T.PRO X heralds a new generation in high-performance adjustable gaming mice. Easily switchable components mean that the R.A.T.PRO X might just be the last gaming mouse you'll ever need.
Future-Proof Your Game
As technology advances, your mouse can now advance alongside it. R.A.T.PRO X offers your choice of optical and laser sensors, each with memory for up to 9 profiles. And when a new sensor comes along, you can simply swap-in a new module.
Our new magnesium alloy chassis is nimble yet incredibly strong. Plus, you can trade or adjust just about everything that comes in contact with your hand. We analyzed every single aspect of what makes a great gaming mouse. We then assembled one that's all but guaranteed to elevate your rank on the leaderboards.
The World's Most Advanced Gaming Mouse
Your Choice of 3 Hot-Swappable Sensor Units with Built-In Memory
Magnesium Alloy Chassis is Quick, Light, and Ultra-Tough
Completely Reinvented Optical Scroll Wheel System
Analog scroll wheel Pivot/Strafe and Adjustable Tension
Pro Slide Technology with Teflon and Ceramic Skis
Assign 90 Programmable Commands to ANY Game
Full Suite of Components for Any Gaming Situation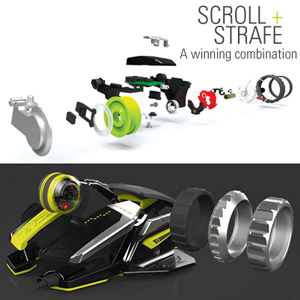 Reinventing the (Scroll) Wheel
We didn't just redesign the scroll wheel, we created an all-new system. Conventional scroll wheels use mechanics, but our revolutionary system uses optics. This empowers you to precisely calibrate tension and speed, and even swap out the wheel itself.
Ergonomics and quicker response times are at the heart of this new setup. We include a set of three wheels with varying materials and dimensions. You can manually adjust their click-force to your liking, from free-wheeling to heavy click and everything in between. And, since the wheel resides on an easy-to-access swing-arm, you can quickly trade for one that best suits your play style.
Switching and calibrating wheels is fantastic, but the innovation doesn't stop there. The standout upgrade – a world's first! – consists of two words: analog strafe. Because the entire scroll wheel mechanism and optical encoder harmonize as one unit, the wheel can pivot independently from the rest of the mouse! It doesn't merely click when pressed left or right. Better still, it emulates a controller's analog stick.
The wheel can pivot side-to-side to give you an extra, fully analog axis. Another axis opens up the possibility of 'peeking' out from behind cover, or even circle-strafing enemies. And in space sims that use an additional rotation axis, you can navigate your ship with perfect analog precision. This breakthrough control method gives you a distinct advantage over the competition – something you'll find only on R.A.T.PRO X.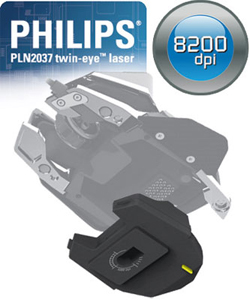 Philips PLN 2037 Laser Sensor
The Perfect Weapon for Everyday Gaming. Whether you're into FPS, RTS, MMO or MOBA, this is your all-purpose laser to get the jump on the competition. With a combined set of features allowing you to fine-tune the DPI, lift-off, and sensor damping, the Philips 2037 lets you take control of the game.
This is the most configurable sensor on the market today. If you're a true tech-head looking to tweak every aspect of your mouse's performance, this one's for you.
These are the standout features that perfectly complement a standout mouse:
True 8200 DPI—More than covers you, even with a 4K monitor. No trickery, either. You'll always know you're getting 100% accurate tracking and genuine data.


Rotational Angle Adjustment—If your grip slightly twists the mouse when you move your hand horizontally, the onscreen response will be slightly angled. Rotational adjustment accounts for this by allowing you to alter the X and Y axes' alignment.


Automatic Surface Calibration—Measures the surface quality to achieve optimum performance. Switch to manual calibration to fine-tune tracking.


Adjustable Lift-Off Height—1mm down to 0.2mm. Lower settings help prevent accidental input after lifting the mouse. Also caters to those who prefer the feel of higher lift-off.


Sensor Damping—Tunes out ultra-low sensor deviations (vibration, mouse surface warping) to prevent unwanted cursor input.
R.A.T.PRO X gives you the flexibility to use different sensors in your mouse. But, choosing one doesn't need to be a difficult process. Let's look at the traits of the first wave of sensors and why you'd pick one over the others.
| | | | |
| --- | --- | --- | --- |
| Sensor | Philips PLN 2037 | PixArt ADNS 9800 | PixArt PMW 3310 |
| DPI Range | 100-8200 | 100-8200 | 100-5000 |
| Acceleration | 50G | 30G | 30G |
| Tracking Speed | Up to 6m/sec (240 ips) | Up to 3.8m/sec (150 ips) | Up to 3.3m/sec (130 ips) |
| Adjustable Lift-Off Height | 1mm down to 0.2mm | 3mm down to 0.3mm | – |
| Automatic Surface Calibration | ✓ | – | – |
| Rotational Angle Adjustment | ✓ | – | ✓ |
| Sensor Damping | ✓ | – | – |
| Angle Snapping | – | ✓ | ✓ |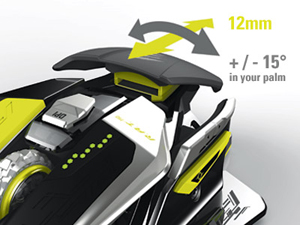 Perfect Your Grip
Adjustability in the palm of your hand is part of what defines a R.A.T. Without the means to customize and truly make it your own, it'd be just another gaming mouse. The palm rests on almost every R.A.T. let you make lateral and vertical adjustments. Hungry for more, we gave R.A.T.PRO X yet another way to adapt to your grip. Now you can rotate your palm rests – from 0-15 degrees – along the core axis.
Although powerful, the means to twist your palm rests is only one piece of an ergonomic puzzle. Interchangeable pinkie grips and thumb rests not only fight fatigue, they let you dial-in your grip until the mouse feels like a natural extension of your hand. You get three different palm rests, two thumb wings, and three pinkie rests. You also get the benefit of being able to comfortably shift hand positions during prolonged matches.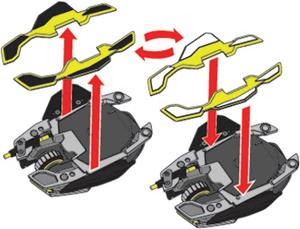 Slide like a Pro
Customization goes from top to bottom, and our PST is the final layer. Pro Slide Technology gives you a choice in how quickly the mouse glides across your mouse pad. This doesn't just let you choose between fast or slow, it lets the mouse adapt to the surface it's on. Of course, this includes Mad Catz' very own G.L.I.D.E.TE mouse pad.
We liken this technology to swapping tires on a car, only much easier to change. Different seasons and road conditions call for different levels of traction. And the same goes for mouse pads. Use either ceramic or Teflon skis to vary the way your mouse stops, starts, and handles. All for the sake of increased accuracy on whatever surface you prefer.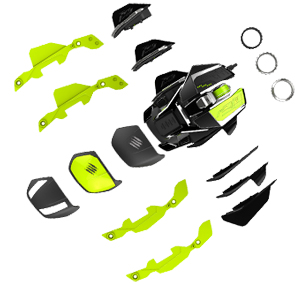 Key Ingredients
From it's dramatic looks to its customizable profile and bleeding edge performance, the RATPRO Xis precise and fine-tuned gaming mouse. We found the best materials for every component, each designed to enhance speed and longevity.
We improved agility with a magnesium alloy chassis that's lighter and stronger than any we've ever made before. Titanium screw fittings and a carbon fiber thumb-plate further reinforce the mouse. Now you can change direction quicker than ever with confidence. Superhydrophobic coatings help keep your hand dry in the heat of battle. That means less chance of one little slip costing you a match. And with magnesium alloy on the primary buttons, you get quicker, more reliable actuation.
Swift yet strong, comfortable, and deeply customizable, R.A.T.PRO X exists to make you a better gamer.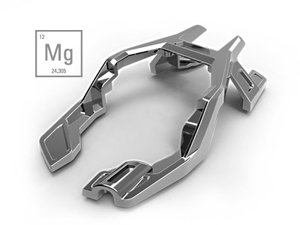 Write a review for Mad Catz R.A.T. Pro X Gaming Mouse - Philips 8200 DPI
Note:
HTML is not translated!